I have struggled with migraine headaches for years. It will not surprise many of you who have read my work for any length of time that my brain is slightly broken. I try to look on the bright side of things (except when I have an actual migraine, in which case I just want dark.) I have long asserted my affliction was the Creator not wanting me to feel needlessly handicapped without a meteorology degree. I can feel a rapid weather change coming on faster than Environment Canada (or Karen from Mean Girls) can predict it. It's not as if I haven't tried to get rid of them.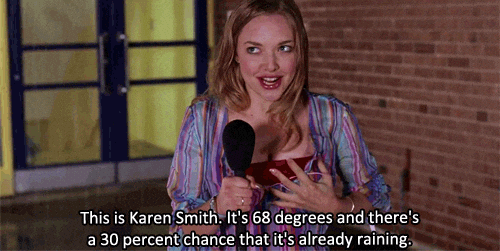 I saw a neurologist – actually two of them. The first one gave me a beta blocker which was helpful from a pain perspective only in that my blood pressure is low enough that it almost stopped my breathing entirely. I could scarcely focus on pain as I gasped for air. The second one asked how I planned to address the fact that I was overweight. I pointed to my six week old infant and said, "Breastfeed." His plan was anti-epileptics (and hopefully a brush up on his people skills), but I was very nervous of the cognitive impacts described in the pamphlet of side effects so I declined. After all, wasn't it just all in my head, like everyone says?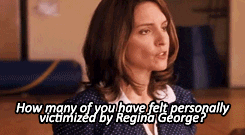 NO. "Migraines aren't just "all in your head". If you've ever had a migraine, you will know it's a full body experience"(that you wish was an out of body experience). It's like a spa wrap but with stinging nettle, poison ivy and caustic acid. I hate being touched in that state. Having a migraine reminds me of that scene in Mean Girls, except the question is "How many of you have felt personally victimized by the elastic waistband of your yoga pants?" I can't stand how they pull at my skin. It's sensory overload. Socks feel oppressive. My ponytail holder feels like it is trying to tear every hair from my scalp which is also on fire. My bra seems to be lined with sandpaper. Every article of clothing is too tight on my skin, like saran wrap that is stretched beyond what is reasonable to cover a casserole dish. I feel like death and while I don't crave human contact, I long to be understood.
'Tell me all about your headache, sweety," my partner says, "just as soon as I finish turning on EVERY FREAKING APPLIANCE IN THE HOUSE, mmmmmkay?" Ever. Single. Time. I know he's trying to help so that the housework doesn't get too far behind, but my needs are few in this time of convalescence:
1. Quiet
2. Dark
3.Drugs
4. Scent-free.
After all, a migraine is like a bullhorn for smells in the same way that it significantly amplifies noises. The odour of stinky socks seems to be on steroids and just one whiff hastens a reunion with my lunch. I don't know what one hand clapping sounds like, but I do know that the washing machine, the dryer and dishwasher sound like the 4th of July. I really, in that moment, long to be Independent. Oh Say Can You See that my head is going to explode unless I get some peace and quiet?
I really wish it would explode sometimes. If you stick a grape in a vice, that's a pretty good visual of what my eyeballs experience. And that shower scene in Psycho? That's what the stabbing in the back of my head feels like. I am motion-sick and violently nauseated by the subtle sway of my body as I breathe. I inhale the small tablet from the triptan family and hope for the best.
This is not to be confused with tryptophan. That's the amino acid attributed to turkey, which has a 95% chance of being accompanied by stuffing which are pretty awesome odds, in my humble opinion. I take medicine and 50% of the time it works, 75% of the time it knocks me right out and 100% of the time my toes feel seriously weird. Weird, weird toes. That's if I have medicine, because I often forget to refill until I get a migraine and then I'm too sick to refill. My drug plan only covers the generic, and it's a dissolving tablet. Unfortunately, that means my pharmaceutical experience is like sucking on a piece of chalk. Refill related hindsight is 20/20, and that's not the only way these headaches contribute to my perspective.
Migraines have shaped how I feel about sequels – I dread them, because they are never better than the original and you wish they would just stop making them already. It's all been done before. I do, however, wish they would do a Mean Girls sequel. With the frequency of my migraines, when it rains it pours and like Karen says, "There's a 30% chance it's already raining."
Do you get migraines? How do you handle them?